How to get more reviews for your business
In today's digital commerce landscape, trust is everything—especially when it comes to building customer loyalty.
Edelman found that 67% of consumers must trust a business before they continue buying from it. And Salsify discovered that 46% of US consumers will even pay more to buy from a company they trust.
These stats show that consumers are looking for much more than brand names, quality, and convenience—they're looking to establish a long-term, trusting relationship with a reliable business.
This prompts the question "How can a business establish trust?" The quick answer: capture more customer reviews. Why? Because 88% of consumers consult reviews when discovering a local business and 46% of consumers say they trust online reviews as much as personal recommendations.
This article will explore how merchants can get more reviews, covering the following topics:
Why customer reviews are essential
The importance of building online customer reviews cannot be understated. Above all, online customer reviews have the same trust-building power as word-of-mouth recommendations—only with a wider reach because they exist online.
Establishing trust isn't the only reason online reviews are a critical part of a business-building strategy. Reviews also contribute a rich narrative about your business from the customers' perspective.
When a new customer researches your business, they're not just looking for a high star rating; they're also looking for experiences, stories, and reassurances that they're investing their money wisely.
How to ask for online reviews
Now that we've covered why reviews are critical, let's dive deeper into some of the many ways businesses can efficiently ask for more reviews:
An old-fashioned face-to-face chat works wonders when asking for reviews. Train your employees to have a quick conversation with your customers and ask if they can spare a minute to leave a review.
Let's say you own a pizza place. As your customers finish their meal and compliment the food, say, "We're glad you loved our pizza. It would be great if you could drop a quick review online when you have time. It'll help us reach more pizza lovers like you." A simple in-person request goes a long way. Remember to direct customers to the specific channels where you're trying to capture more reviews.
On cards to hand out or include in a delivery
Creating cards that say "Leave us a review" is a good way to help people write about their experience. Hand out the cards as customers leave, and remind them to drop a review. Alternatively, you can include these cards in delivery boxes and bags. Incentivize customers to leave a review by adding a promotion to the card.
If you run a flower shop, for example, design a branded card and include a friendly message like "Enjoyed your bouquet? Help us spread the joy by leaving a review." Then add a QR code linking to where customers can leave a review.
Another idea is to send a follow-up email or text to your customer after they order, asking them for a review. Walmart uses this approach every time a driver completes an online delivery. Here is an example: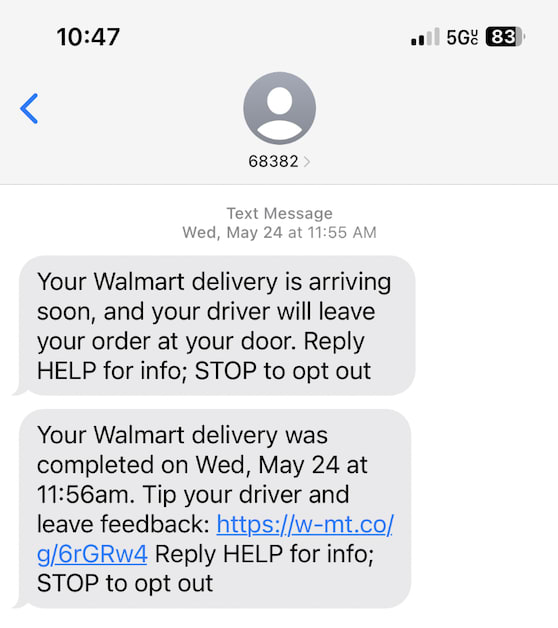 Walmart's text is short and includes a direct link where customers can easily leave a review. The message also includes a way for users to opt out if they aren't interested in submitting feedback.
It's smart to engage customers on platforms they often use to research local businesses. And where do consumers spend a lot of time? Social media. Statistics show that 75% of Internet users use social media to research products.
Local Boston hair salon Shona Stylez uses this approach to capture more reviews and improve brand awareness. Here's an example of one of the salon's Instagram posts: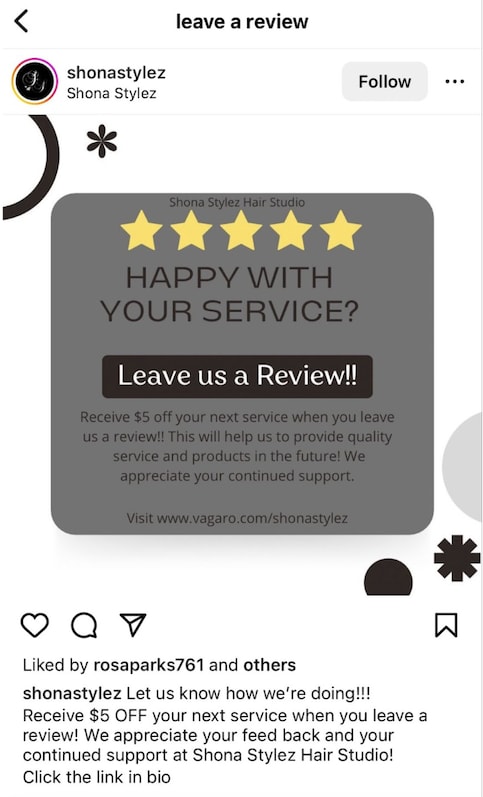 Not only does the salon ask for a review, but it also incentivizes customers to leave one with a $5-off coupon for a future purchase. Plus, the salon includes a direct call to action by asking customers to "Click the link in bio." This makes it easy for people to know exactly how and where they can leave a review and get a coupon.
With store signs and website prompts
Adding a reminder on your website or displaying a sign in your store asking for reviews can go a long way. Put it in a prominent spot, and don't be afraid to make it creative.
A local ice cream shop in Glenwood Springs, Colorado, called Sundae does this. The store has signs on every table reminding customers to leave a Google or Yelp review.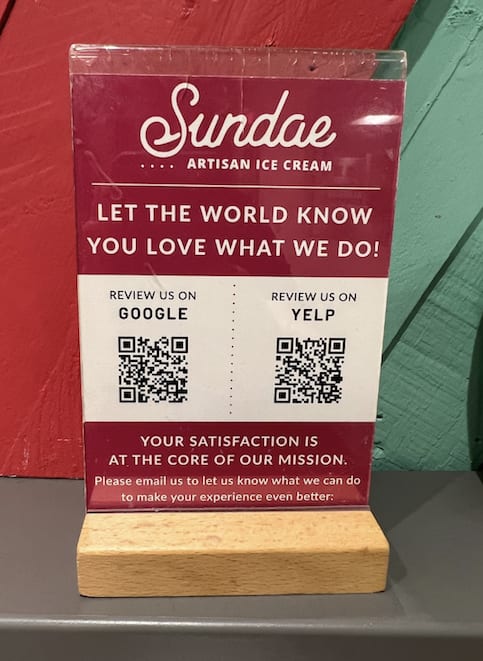 Review platforms to consider
Businesses find certain review platforms more beneficial based on their industry and target audience.
For example, businesses selling consumer goods might prioritize platforms like Amazon for gathering reviews. The reason? Consumers often check reviews on Amazon before making purchases, regardless of whether they're buying from Amazon itself or another retailer. And 79% of Amazon browsers are influenced by reviews and ratings on Amazon.
While Amazon holds great sway, it makes more sense for restaurants, cafes, and other food-based establishments to invest in platforms like OpenTable, Yelp, and Zomato. These review platforms are popular with customers who are seeking culinary experiences.
And don't forget: customers also look to third-party platforms like Uber Eats to read reviews and get recommendations, especially if they're interested in delivery services.
Although different types of businesses prioritize different review platforms, Google and Facebook are universal platforms for reviews across all business types. Google's prominence in online search and the extensive reach of Facebook make them vital tools for building your business's online reputation.
How to get Google reviews
Even as new review tools pop up, Google remains the primary site where consumers go to read reviews. BrightLocal found that 87% of consumers in 2022 said they used Google to research local businesses.
Because Google plays such an essential role in consumer business research, you need to make it easy for them to leave a Google review. Below are some steps to follow to capture more Google reviews.
Claim your Google Business listing
By claiming your Google Business Profile, you control the information that appears about your business on Google, including the business name, address, and operating hours. Once you have an active listing, your business will be visible on Google and customers can start leaving reviews.
Here's how to claim your business listing:
Visit Google's Business page at google.com/business.

Click on Manage now.

Enter your business name and click on it.

Follow the prompts to claim your business. Verify ownership by phone, email, or mail.

Review your business information, make necessary updates, then submit your listing for review.
Create a Google reviews link shortcut to share with customers
Once you have control of your business listing, you'll want to drive more traffic to your Google reviews page—especially from happy customers.
Do this by creating a Google reviews link shortcut and sharing it on your website, in emails and text messages, and across your social media accounts. Using the short link, you can also create a QR code (like the ice cream shop Sundae did) for customers to leave a Google review.
Here's how to create a Google reviews link shortcut:
Find your place ID. Google provides a Place ID Finder tool you can use. Type your business's name and address into the tool and it will show your place ID.

Create a URL. After you get your place ID, you can create a URL that will direct users to the review submission page for your business. Simply copy your place ID and paste it at the end of the link below (directly after the "=" sign).

https://search.google.com/local/writereview?placeid=

Add the URL to your site. Once you have your URL, you can embed it on your website. The HTML for a text link would follow the format below. Just remember to replace your-place-id with the ID you identified in step #1.

That's it! With this shortcut, your customers are just one click away from reviewing your business.
Create a dedicated Google reviews page on your website
Another idea to encourage more people to leave a Google review is to create an entire page on your website reserved for Google reviews.
A dedicated Google reviews page makes it easier and more convenient for customers to share their experiences.
To create a Google reviews page on your site:
Get your Google reviews link following the steps that Google provides.

Create a new page on your website, and label it "Google reviews" or something similar.

On this new reviews page, add instructions for how customers can leave a Google review, then embed your Google reviews link.
Make sure the Google reviews page is easily accessible from your website's main navigation so it's easy to find.
How to get reviews on Facebook
Google is a popular place to find reviews, but consumers also look to Facebook when using social media to find recommendations.
Data shows that Facebook has 19% of all online customer reviews, just under Google, Yelp, and Tripadvisor, making Facebook an integral place to capture reviews. Follow the steps below to set up your business to capture more Facebook reviews.
Create a Facebook business profile
The first step is to make a Facebook business profile. This is where customers can learn about your business and leave reviews.
To do this, you'll need to sign in to your personal Facebook account, click on the Pages section, then select Create New Page for your business. From there, you'll enter your business name, category, and other relevant details. You'll also upload a profile picture and cover photo representing your business. Finally, fill out the About section and publish your page.
Enable the reviews tab on your business page
Once you have a live Facebook business page, you're ready to enable the reviews tab so that customers can leave Facebook reviews.
Enable this from the Settings section of your business page, then click on Templates and Tabs. There, you can switch on the option for "Reviews."
Here's an example of what the Facebook reviews tab looks like once it's live, from a Pizza Hut in Norridge, Illinois.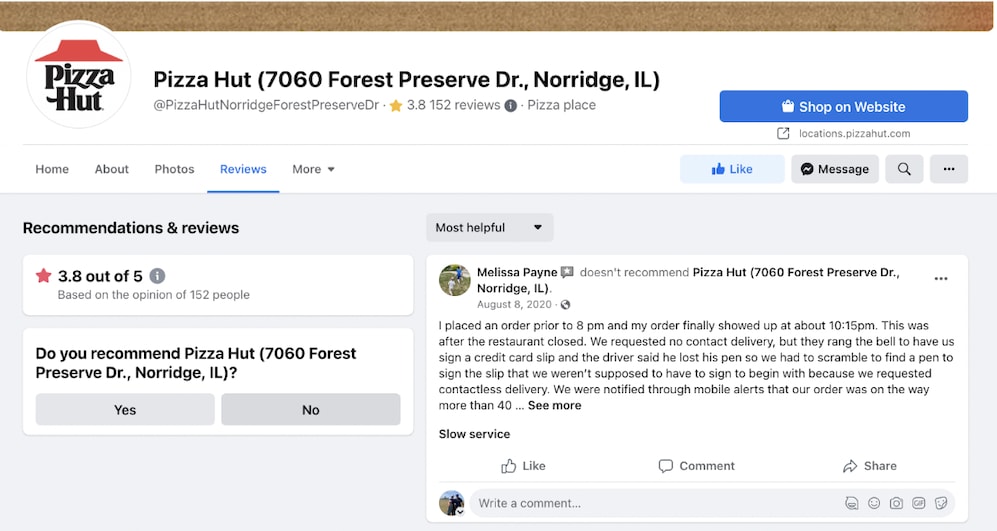 Share a Facebook review link
Once you've enabled reviews, you can create a direct link for customers to review your business. The URL should follow this format:

Remember to replace YourPageName with your business's Facebook page name:

Share this link on your website, in emails or text messages, or on other social media platforms to ask customers to leave a Facebook review.
Encourage Facebook check-ins
Another good way to promote your business on Facebook and potentially get more reviews is to suggest check-ins.
When customers visit your physical location, encourage them to "check in" to your business on Facebook. When they do that, their check-in will appear on their feed and can be seen by their friends and followers.
This increases your visibility and credibility as more people publicly share that they're using your services or products.
Create posts that inspire reviews
Now that you've set up your Facebook business page for success, don't forget to encourage your customers to use the page to leave reviews.
Regularly create posts that ask your followers to share their experiences with your business. Or you can run a more formal campaign and offer an incentive in exchange for feedback.
Other important considerations when trying to get more positive reviews
Setting up your business to capture more reviews from platforms like Google, Yelp, Facebook, and Uber Eats is only half the battle.
The other half is managing and leveraging reviews to improve your reputation and acquire more customers. Below are some other important considerations when you're strategizing to get more reviews.
Stay up to date with the reviews that customers post
93% of consumers say online reviews affect their buying decisions. As such, it's critical to know what customers are saying about your business.
One way to know immediately what customers are saying is to set up notifications or alerts for new reviews on Google, Facebook, Yelp, and Uber Eats. Most review platforms offer this feature, and you can enable it with the click of a button.
These alerts will tell you if customers are promoting your business and touting your excellent products and services or if they had a negative experience that hasn't been resolved. With alerts, you can stay on top of what customers are saying so you can respond and manage your reputation.
Another idea for remaining aware of customer reviews is to invest in online reputation management tools. They help you monitor and manage reviews across several platforms so you can reply promptly—no matter where customers leave a review.
Positive reviews can make the difference between someone becoming a new customer or scrolling past your business listing and selecting a competitor. Negative reviews are equally powerful. In fact, 86% of consumers will think twice about buying from a company with negative reviews.
The good news is that even if customers come in contact with a negative review, it may not faze them if they see that the business has made an effort to respond to the comment and resolve the situation.
It's even common to see customers update a review from a low-star review to a high-star review after the company directly responds and resolves the situation. Customers understand that things can go wrong. By responding to negative reviews, you can show you're committed to resolving problems when they arise. If someone posts about a negative experience and your response has turned the negative experience into a positive one, consider highlighting that to show your customers you care.
While one negative review can cost a business potential customers, 75% of businesses still don't respond to negative reviews. This means if you make it standard practice to respond to positive and negative reviews, you'll have a leg up over your competitors who have no review-response strategy.
Leverage positive reviews
Positive reviews act as sales tools, touting the good name of your company across the Internet and social media. They show potential customers that other customers are satisfied with their experiences.
Although reviews on places like Google, Facebook, and Uber Eats go a long way in bringing you new business, you don't have to let the positive talk about your brand start and stop on those platforms.
It's wise to take those positive reviews and cross-promote them on other channels where customers come to learn about your brand. For example, you can post positive reviews on your website and social media channels.
You can also have a dedicated testimonial page or a section on your homepage for displaying good reviews. Positive feedback on your website offers the social proof customers need to make buying decisions.
Learn how Uber Eats makes it easy to get more reviews and engage with your customers
Potential customers don't look exclusively at Google, Yelp, and Facebook for business reviews—especially when they're making a purchase directly through a platform like Uber Eats. They also scour the reviews on the platform where they're making a purchase.
Uber Eats understands this, and that's why we make it easy for merchants to capture, manage, and respond to customer reviews directly in the Uber Eats platform. You can even automate responses based on certain qualities (like star rating and minimum order total) if you're short on time. Explore how to get more reviews and customers by partnering with Uber Eats.