A guide to restaurant marketing basics
Running a successful restaurant isn't only about preparing delicious food and providing excellent customer service. Success also hinges on implementing an effective marketing strategy that reaches the right audiences with the right messages at the right time.
Balancing restaurant operations and marketing can be tough. To make it easier, we've interviewed 2 restaurant marketing and growth experts at Uber Eats: Derek Ryan, Enterprise Client Partner, and Paige LaPorte, a Senior Account Manager.
We've consolidated their best advice into this guide to restaurant marketing basics, including:
What is restaurant marketing?
Restaurant marketing is the strategic promotion and branding of a dining establishment to attract customers, drive sales, and build brand loyalty.
Unlike other industries, food service satisfies a time-sensitive and daily customer pain point: hunger. Secondary pain points, including cost, convenience, and personal preference, can also play a role in consumers' immediate purchasing decisions.
Because the pain points of hungry local consumers differ from those of retail and e-commerce shoppers, so does the restaurant marketing playbook. In the restaurant industry, marketing is all about immediacy. In other words, it's about reaching customers when they're hungry and ready to make a purchase now, not later.
Benefits of marketing your restaurant
The food service industry is booming and predicted to reach $997 billion in sales in 2023. This growth makes sense, considering that 31% of US consumers use third-party food delivery services at least twice a week and the global number of meal delivery users is forecast to reach 2.5 billion by 2027.
While this increased interest in food service is excellent news for restaurant owners, it also means new restaurants are popping up and competition is fiercer than ever. In fact, at the beginning of this year, 47% of restaurant operators said they expected competition to grow more intensely in 2023 than in 2022. And according to internal Uber Eats data, the count of active restaurants in the US on the platform in June 2023 rose 14% year over year.
With new, enticing restaurants on every corner and available at the tap of a button, having a dynamic marketing strategy could be your way to get a leg up over your competitors. Below are some additional benefits you'll experience by marketing your restaurant.
Without the help of out-of-home (OOH) advertising and digital marketing, your restaurant's visibility depends on people driving or walking past your location. Marketing campaigns make it possible for people who are scrolling third-party delivery apps, reading restaurant reviews, or searching online for delicious restaurants near them to see your restaurant's name show up repeatedly.
The quality of your food isn't the only reason people will pick your restaurant. Diners will also select your restaurant based on the ambience, service, dining experience, and occasion. When you take the marketing reins, you get to build your brand experience and show customers exactly what type of restaurant you really are. Are you the local brunch spot? Are you the bar for business meetings? Are you the fancy restaurant where lovers get engaged? How about the fast-casual spot that always delivers piping hot food? You get to decide.
Good marketing doesn't only attract customers—it also engages them. Whether it's through promotions, events, responding to reviews, or loyalty programs, good restaurant marketing helps you maintain an ongoing relationship with customers, which can result in repeated visits and higher customer retention rates.
Growing your sales is the most direct benefit of effective marketing. Special offers, promotions, and brand exposure can lead to increased traffic, more online orders, and boosts in loyalty, translating to more sales and higher revenue.
When to start marketing your restaurant
Premature marketing could cause a surge in customer interest you may not be prepared to handle. So you don't want to start advertising your restaurant until you have all your operational ducks in a row.
Before diving into your marketing strategy, ensure that your supply chain is robust, your staff is well trained, and you've fine-tuned pricing. Also, says Paige LaPorte, "check to see that your menus are optimized. This is especially important for your menus on apps like Uber Eats. Include imagery, detailed descriptions, and the appropriate modifiers. Review your analytics to see if you're preparing orders accurately and in a timely manner."
Once you've completed these steps, perform a soft launch to identify areas for improvement in your processes. This will determine whether you've reached a level of operational maturity before initiating a large-scale marketing campaign.
"Once you have this solid foundation in place," says LaPorte, "you're in a good position to start investing in marketing efforts."
Successful restaurant marketing is all about meeting your customers with inviting offers where they go to order when they're hungry. And the good news for restaurant marketers is that it's fairly easy to find and target those hungry consumers.
More than two-thirds (69%) of customers order takeout or delivery as often as or more often than they did before the pandemic, and 13% prefer to order from third-party delivery platforms and websites, according to Deloitte. As such, it's essential to beef up your marketing efforts on third-party apps like Uber Eats.
Derek Ryan explains why marketing on third-party delivery apps is so promising: "Uber Eats attracts a high-intent user. These are customers who are in a restaurant's delivery radius, they're hungry, and they're opening the app because they want to order something right now. That's exactly who you should be targeting. Because of that high intent, restaurants can see higher returns on their marketing efforts than they might on other platforms."
LaPorte adds: "Not only are you able to target high-intent customers in the delivery radius of your restaurant, but you can also target new customers or users who haven't ordered from you within a specific timeframe. You have the ability to get very granular with your targeting."
The added benefit is that even if a customer doesn't order delivery from your restaurant immediately, they're still getting exposure to your restaurant and promotions for future potential purchases.
"Some restaurants need exposure, some need to increase orders, and others might need help driving demand between peak periods like breakfast and dinner. Identify what success looks like to you before you hit the ground running."
Paige LaPorte, Senior Account Manager, Uber Eats
How to market your restaurant
Now that we've talked about the benefits of marketing, when to market, and who to market to, let's cover some high-level marketing strategies you can add to your restaurant marketing plan.
How much should I spend on restaurant marketing?
What you spend on marketing will depend on your goals and business needs. "Some restaurants need exposure, some need to increase orders," says LaPorte. "Others might need help driving demand between peak periods like breakfast and dinner. Identify what success looks like to you before you hit the ground running."
Before launching any marketing campaigns, conduct a thorough needs analysis. This will help you identify the challenges and opportunities unique to your restaurant, allowing for a more targeted marketing strategy and a wiser use of your budget.
Here's how to get started with a needs analysis:
Define objectives. Write down your marketing goals (such as increasing foot traffic, boosting online orders, or enhancing customer loyalty). "If you're working with a small budget," says Ryan, "be cognizant of what your goal is and what you're hoping to get out of marketing. That should be the very first question you answer for yourself."

Gather data. Next, establish a baseline by analyzing historical sales data, customer behaviors, and past marketing performance. You can also survey your customers or look at old feedback forms to understand what customers think you need to improve. This will give you accurate insight into where you need to make changes and investments.

Identify weak spots. Dive into the data and pinpoint areas where your restaurant is underperforming, such as specific menu items that are not selling well or times of the day when foot traffic is low.

Review costs and set budget parameters. Evaluate your current expenses in marketing and other operational areas to understand how much budget can be reallocated or increased for marketing. Based on your goals and findings, outline a preliminary marketing budget.

Prioritize channels. Determine which marketing channels are most effective for reaching your target audience and allocate budget accordingly. To figure this out, you can see what is working for your competitors, ask your customers where they place orders, and dive into industry data for more information.
Once you've conducted a needs analysis, you'll have a more definitive idea of how much your restaurant marketing efforts will cost.
How to measure marketing success
No marketing plan is complete without a way to measure performance. Establishing and tracking key performance indicators (KPIs) will show you which of your marketing efforts are most fruitful, when you need to make changes in your strategy, and what marketing initiatives aren't working at all.
Since every restaurant is different, there is no one-size-fits-all solution to measuring performance. But LaPorte offers insight into how to test the waters and watch your data trends before making any big campaign changes: "When launching a new campaign, let it run for 2 weeks before making any changes. Stay consistent, and give your campaign time to collect data. From there, you can start to see a clearer picture of what's working—if customers are actually converting and placing larger orders. Give the data time to speak."
Ryan echoes this sentiment. He advises people who are new to restaurant marketing that some trial and error will be needed to discover what works best: "You might find out that a 20%-off offer works really well on the east side of town but that folks respond better to a BOGO offer on the west side of town. Identify your goals, get creative, and be willing to experiment."
At first glance, it can be intimidating to know how to capture and analyze marketing data, but there's good news: you don't have to do it on your own. Third-party delivery apps like Uber Eats include robust analytics and reporting to help you monitor your advertising and marketing success.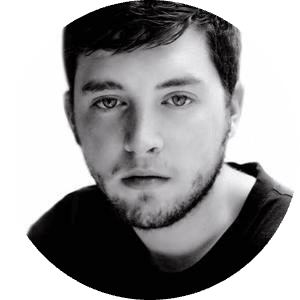 "Uber Eats attracts a high-intent user. These are customers who are in a restaurant's delivery radius, they're hungry, and they're opening the app because they want to order something right now. That's exactly who you should be targeting. Because of that high intent, restaurants can see higher returns on their marketing efforts than they might on other platforms."
Derek Ryan, Enterprise Client Partner, Uber Advertising
Benefits of marketing your restaurant with Uber Eats
Delivery has evolved from a "nice to have" to table stakes. In a report from Uber and Edelman, 75% of consumers said they expect express delivery (within 2 hours) as an option, and 72% indicated that express delivery is their ideal time frame when ordering food. For many restaurants, this positions platforms like Uber Eats—and the advanced marketing tools they offer—as an essential part of the marketing equation.
As more restaurants sign up for third-party delivery apps, it can be challenging to stand out from the crowd organically. With extensive advertising and marketing tools from Uber Eats, you can have a leg up on the competition to reach your target audience.
"If you sign in to Uber Eats Manager and click on the Marketing tab," says Ryan, "there are a number of different solutions that will pop up—everything from ads to drive awareness and exposure to different offer types to drive orders."
Let's dive deeper into the benefits of 2 of those Uber Eats solutions: ads and offers.
In today's competitive food delivery landscape, visibility is key to capturing consumers' attention and driving sales. In-app ads are a sure way to increase the likelihood of hungry users seeing and choosing your restaurant in real time.
"When someone goes on the Uber Eats app, 80 restaurants load at a time. But on average, a customer will only see 13 of those restaurants per session," says LaPorte. "The power of advertising is that you can be found at the top of the feed when someone is in your area looking for food right now."*
And a lot of people are often looking. In fact, 2 in 3 Uber Eats users get to 5pm and don't know what they're having for dinner.* With an ad, you can increase the likelihood that your restaurant will be one of the handful that potential customers see when they're deciding what to eat. "By advertising," says Ryan, "you can move your restaurant to the top of the [Uber Eats] feed. Wouldn't you want to be one of the first things that people see when they open the app?"
Investing in ads puts your restaurant right in front of your target audience. Not to mention, you can customize your ads based on whatever growth goals you have, set ads to target your predefined audience, and monitor your ads in the Uber Eats Manager dashboard.
In addition to running ads, you can encourage customers who come in contact with your restaurant to place an order by providing an enticing offer.
"We want to drive as many people as we can to your storefronts using an ad," says Ryan. "Once a customer is there, we want people converting. The way that we increase conversion rate is to add an offer on top of an ad. Historically, when we use this Better Together strategy, we see sales growth go up and to the right. What's more, we have internal data that says using ads and offers together drives up to 200% more sales than using one tool alone."**
With Uber Eats, you can create different offers based on your business goals. For example, if you're looking to drive sales of a particular menu item, you can create a BOGO offer. If you want to boost the total order amount, you can run a Spend X, Save Y offer. And if you're hoping to attract new customers, use a high-value promotion to get people to try out your restaurant and make a good first impression.
Grow your restaurant with advertising and marketing options from Uber Eats
The restaurant industry is growing more rapidly now than ever before. More people are interested in dining at restaurants and placing delivery orders—especially if it means they don't have to cook and clean.
But with that growing interest also comes new restaurants entering the scene and stiffer competition. Ryan offers 3 e's on how you can place yourself ahead of the competition: embrace, enhance, and expand.
"Embrace the world we're living in and the power of platforms like Uber Eats. Enhance what you're doing by trying different things and identifying what works. If you're seeing a strong return on your investment, expand your strategy—apply it to new locations or add more budget to your campaigns. Lean into these tools and the potential they can offer to your business."
Derek Ryan, Enterprise Client Partner, Uber Advertising
If you embrace industry changes and invest in marketing where consumers are placing orders, you have the potential to reach more customers and see growth. And remember, as LaPorte says, "whatever your needs are, whatever you're trying to accomplish, there's always going to be a solution at Uber."
Existing customers can sign in to their Uber Eats Manager dashboard and navigate to the Marketing tab to get started. For businesses that aren't working with Uber Eats yet, signing up is easy.
*Internal data from 2022.
**This metric compares merchants who have been running ads and offers together with merchants running only ads, merchants running only offers, or organic merchants for more than 7 days from 1/1/23 to 8/1/23 and compares their sales and orders during active campaign days versus organic days. Sales and orders showed growth by more than 200% across all regions and segments when both ads and offers were running. Actual results may vary.